Repair and maintenance with SGS Solutions
With regular maintenance and accurate repairs, we extend the life cycle of your valuable products. This gives you economic advantages and enables you to achieve your sustainability goals.
Efficiency, precision and interdisciplinary competence
When it comes to maintenance and repairs, our customers appreciate not only our precise working methods and processes, but above all our solution orientation.
Due to our unique constellation with closely linked development and production departments, we solve all problems reliably and quickly.
Two categories of repair and maintenance are particularly popular with our customers:
Reduce failures, increase product and functional safety
Compliance with legal requirements
A new service you offer
Result: Technically new devices
Reach a new buyer segment/price level
Maximizing returns, faster allocation of initial costs
By using our service, many customers have been able to streamline their developments and achieve advantages through less overgengineering. For some customers we have increased the product lifecycle by up to 500%.
Process and contents of a successful maintenance and repair
With broken devices, we quickly find the faults with our standardized procedures.
The device is disassembled into the necessary components and thoroughly cleaned.
Damaged parts or parts to exchange routinely, are replaced with new ones. If necessary, cables are assembled and attached.
We install new firmwares and software versions.
All components are reassembled. Information (stickers) that may need to be renewed, is applied.
Quality assurance. We test the function and carry out electronic security checks.
Wir führen eine lückenlose Dokumentation der Wartungsarbeiten.
The device is packed with all accessories (e.g. assembly material, accessories and operating instructions), we organize the logistics.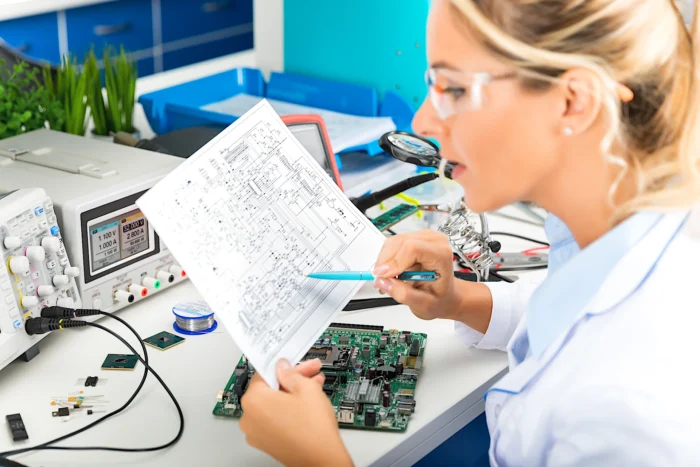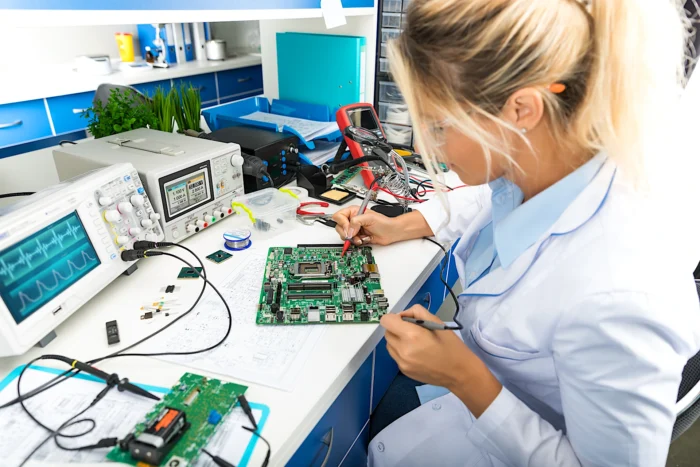 Our certificates for your project
You will receive EU-compliant developments and electronics from us. We have a whole range of certificates that are important for various industries. Are you missing one?
For your success
How our repair and maintenance service contributes to your success.
You reduce your company's carbon footprint and meet your sustainability goals. In addition, with us as your partner, you are prepared for legal requirements and have all the necessary processes in place.
A longer life cycle and resale will give you higher returns. Initial costs are amortized more quickly.
With our know-how and solution orientation during maintenance, you avoid unnecessary repairs. Our service is cost-optimized and fast.
Many parts can easily be used much longer. You'll sell technically sound and renewed equipment (again) without worrying about scarce parts.
Through decades of experience with electronic components, we know exactly how important it is to work reliably and accurately with complex devices. And that's how we work.
Development, assembly, service: We know and can do the processes and know what is important now and later.